In response to the plight of extremely hungry families, APU (Girls on the Move) Girls' School in Malawi has developed a project that will provide work—the building of a needed access road at the school—that will help families buy food. Your donation will be used for wages, which will enable these families to buy enough maize to sustain their families during this time of crisis in Malawi.
A tax-deductible donation of just $50.00 CAD will provide an entire month of work for one person!
---
Malawi: Devastated by Famine
According to the UN World Food Program, much of Southern Africa is in crisis. In Malawi, 2.8 million people (16% of the population) are at real risk of starvation.Many of these affected people live close to Atsikana Pa Ulendo (APU), a girls' boarding high-school about 20 kilometres outside the Malawi capital, Lilongwe.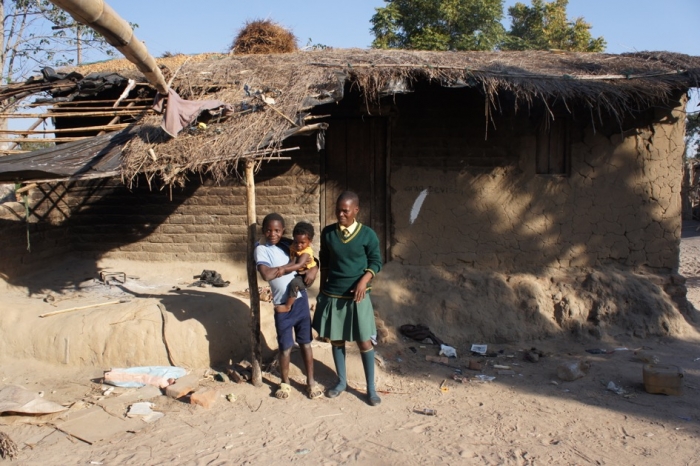 Our Solution: Provide Work to Families in Need
Food is incredibly high-priced in the markets, but it is available, and can be purchased if money is at hand. A bag of maize (50kg) costs approximately 8000 Kwacha, or $15 CAD – just about one week of work. This is not a famine relief or food distribution project as such, but a work project, as this is what the people are requesting. They are not asking for something for nothing.

The families in need are unskilled and can handle only basic manual labour. Right now, it is critical that some way be found to feed these people, and this kind of piecemeal work could be given to them immediately.
Adonation of just $50.00 CAD will provide an entire month of work for one person!
The Project: Access Road to APU
BACKGROUND:
APU was founded by Malawian, Memory Chazeza and Canadian, Christie Johnston in 2007. Memoryis the school Principal, and her husband, Henry Mdyetseni, is the project manager. Memory and Henry approached the APU Trustees in Malawi and the APU-MEF Directors in Canada to assist in helping these local people, after hearing the nightly cries of hungry children outside their windows.
PROJECT:
Henry feels that the best project to provide work for them would be the buildingof an access road, 2km in length, which is much needed by the school. In many ways, this project will strengthen the connection between APU and the surrounding community. Henry feels that an amount of $32,500 CDN would be sufficient to complete a project such as this, and it would be work that these people (mainly women) would be able to do.
IMPACT:
This project will employ 200 people, 6 days a week, for 7 weeks at $1.92/day – above Malawi's minimum wage of $1.25/day. Our project manager on the ground would work with the local chiefs who would determine, based on need, who would be given the work. He feels that providing seven weeks of work would be sufficient to get the famine-affected people through to late March when their next crop can be harvested. Despite this not being far away, the current hunger is extreme, and the past year's drought has devastated crops and the chances of successful yields – bringing another food disaster in the near future.
Accountability
100% of your donations will go directly towards the project in Malawi!

The Canadian Board of Directors has been given a detailed budget for completion of the access road, and they have examined it in detail to see where costs might be cut. The Trust in Malawi that oversees the running of the school is in agreement with Henry and Memory that the building of this road, a very necessary project which will facilitate access to the school, would be the most humane route to take to help feed these families.
If you would like more information, please don't hesitate to contact us atsupport@malawigirlsonthemove.com
Visit our Website
Visit our Facebook Page
Charitable Status & Tax Receipts
APU Malawi Education Foundation is a Registered Charitable Organization in Canada and will provide tax receipts for donations over $50.00 CAD (Registered Charity Number: 808514657RR0001).
Please . . . Help End the Suffering
We ask for your support in this "Food for Work" project, which will, at least in a small way, provide some relief to these hungry families in Malawi.
https://chuffed.org/project/apufood4work